You know how
Etsy
is
the
place to go for indie-designs? Well in my search for Taiwanese designers out in the interweb for some inspiration, I discovered a Taiwanese version of Etsy, called
Pinkoi
(found via
shuflies
). It is pretty amazing. I've navigated through it with just the icons for the different product categories, but sometimes I panic and accept Google's offer to translate the page for me (mostly just my lazy brain giving up on me).
It's fun to see what people over there are designing/making because I feel like I'm seeing the same sort of style when going through Etsy & pinterest (think polka dots, stripes, & chevrons), so it's refreshing to browse through the site. No chevrons or stripes or polkadots. Or at least not at first glance, so that's promising.
Or how funny are these pencil sharpeners by 設計小人SBooBS?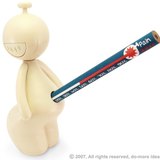 (Don't you love how things from Asia translate into English? I wonder how they came up with that name...)
I might need to get that pencil sharpener just to have on my desk in my new office.
Sidenote: I just saw this in
shuflies
'
post on the Yong Le Fabric Market
in Taipei.
I might need to get some of that. I wouldn't really use it for anything though. I just want it. Ah-mazing (to borrow J.'s favorite word).
It's late and I can't stop looking through shuflies' posts & stuff on Pinkoi. This may become a problem given that I am a new pinterest addict too.