I don't know about you guys, but I'm super excited for Christmas this year! I know, summer JUST arrived: what am I thinking?! Well this year I decided to create some stuff for Minted's biggest challenge of the year: the holiday photo card challenge! I participated once many years ago and was completely intimidated and overwhelmed by all the amazing entries and also found it challenging to get in the holiday spirit in the springtime. But this year, with the crappy weather we got at the beginning of spring (note-to-self: don't plant anything until
after
Mother's day >.<), I found it easy to get in the Christmas-spirit and decided to participate.
First up is
Geofrost
. I borrowed the "jewel" shape from my
Geo Wreath Thanksgiving card
to create a frame for this one with a foil finish.
Season's Eatings
was inspired by the feast of the holidays. I ended up creating the lettering for "season's eatings" because I couldn't find a font I liked for it. Once this Minted holiday madness ends, I plan on turning that into a full display font so keep your eye out for that!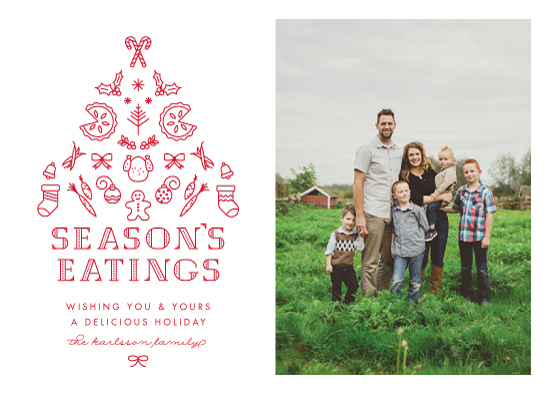 Holly and Pine
is the result of a few watercolor painting sessions. A simple illustration with clean text to frame out a large photo.
Newborn kisses
started out in a very different place than where I ended up taking it. It began as another lettering exercise:
While I really love how the ribbon"holiday" turned out, I found it too be too scripty for the look I was going for, so then I went & started to create another font. And yet again, no matter how I worked it, I just wasn't liking it. So I turned to my
trusty condensed sans serif favorite
and ended up with this:
So the only element I kept was the slant. And while I didn't intend to channel an 80's color-scheme, apparently I couldn't help it.
Ribbon of Joy
was a last-minute design that I put together as a challenge to myself:
what can I do in 10 minutes?
And then plus another 20 in editing time ;) To be fair: I already had the basics of the ribbon done as a draft for something else that didn't get used.
I have always greatly respected designers who were
hand-lettering
and
type geniuses
, but after all this: I have a whole new level of appreciation for this craft! So much more to learn! But this has all inspired me to try my hand at hand-lettering Chinese characters (speaking of which: you MUST
watch this
). I've got so many things I plan to create and want to create that I'm super excited for the next few months (years, even!). Stay tuned =)
But back to the point of this post: I hope you all take some time to vote! There is SO much great stuff out there that deserves to be seen, you guys! I'm just trying to ignore the fact that there are 4661 entries O_O You know..... my little bunch of 5 out of all those... not intimidated at all... But hey: better odds than the lottery...? Though I seriously don't know how Minted can choose: there are SO many amazing ones!
You can vote through the
challenge submission gallery page
. Scroll down to see the submission gallery and hover over the "rate it" button below each piece. You can also click on each of my submissions to vote on larger images and it will advance you automatically to another randomly selected design after you rate each piece.
In the mean time, I'm going to go get started on voting myself. It closes June 22! Happy June everyone =)
xoxo