It's been a while since I last participated in a Minted challenge but for the latest birth announcement challenge I thought I'd at least re-submit the few from the letterpress challenge last summer that I felt really good about but didn't make the cut. Of course I couldn't just re-submit without reworking things, since they obviously could use room for improvement if they didn't get picked originally! Links to the designs you can vote for are the images themselves. You know what to do once you've clicked through ;) Thanks in advance!
Watercolor butterflies was my favorite from the last challenge that I was really sad about not getting picked. But now that I've had some distance (time) away from it, I do see that the white cutouts (which were necessary for letterpress constraints) were clunky and took away from the softness of the design. Also, it was a real challenge getting the background to blend with the photo and thus wouldn't be very accommodating to any photo without a smooth neutral background. On the left we have my re-design for this current challenge! I used a rose gold foil for the butterflies and framed the photo with the watercolor instead of trying to blend it together. I think I like this iteration much better: hopefully the votes reflect my perceived improvements :)
Framed dewdrops was another design that I was really hopeful for, but didn't make the cut. Looking back at it, I can see the dewdrops could use more refinement around the text so that is what I focused on in the update on the second one below.
I also re-worked it to fit one of the die-cut card shapes just in case it scores better ;)
The falling sakura design scored really great! Best score I've ever seen, I think, but alas: they were only picking 50 and there were hundreds of designs.
And while I probably should've left a good thing alone, I thought I'd punch up the design with richer colors so it would pop more during voting. If anything, I am very curious to see how this coloring will score.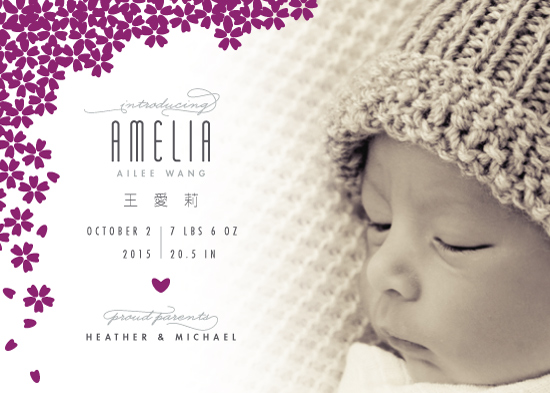 Hello Sunshine was my favorite cutesy design, but I don't think many people understood my intentions for the blind debossed clouds.
So for the redesign I went with the blue color I had scrapped in favor of the white. I punched it up with a bit more texture too.
I loved my little lamb design and I didn't think I would ever touch this again but I resolved to rework it since it obviously didn't resonate with voters as much as it did for me.
I ended up simplifying the elements down to the stars and moon because maybe the sheep and the fence were just too much fluff on top of a cute pattern as is. Less is more or something like that? And I turned it into a multiples announcement. I'll be sure to bring the sheep back some other way though! I love them too much :)
This last design, No Bounds, was inspired by the idea of all the ways families can grow. "Love knows no bounds" came to mind when I thought of the parents and children that are flown all over the world to meet their forever families and so sky-writing was a natural progression in my thought process. I was reluctant to let this one out into the world because something feels unfinished about it, but I thought it'd be better to put it out there and see how it scores before coming back to it. I feel like I simply need more time to mull this one over. I want to turn this into so many other things though! Like a wedding invitation, or elopement announcement. So I might secretly be rooting for it to flop :P Ahh, I know: I'm weird!
Don't forget to click through the images to vote :D Voting closes on the 29th.
Thank you to all the eyeballs out there who gave me feedback as I worked on the redesigns < 3
xoxo
Ling